Global Winter Wonderland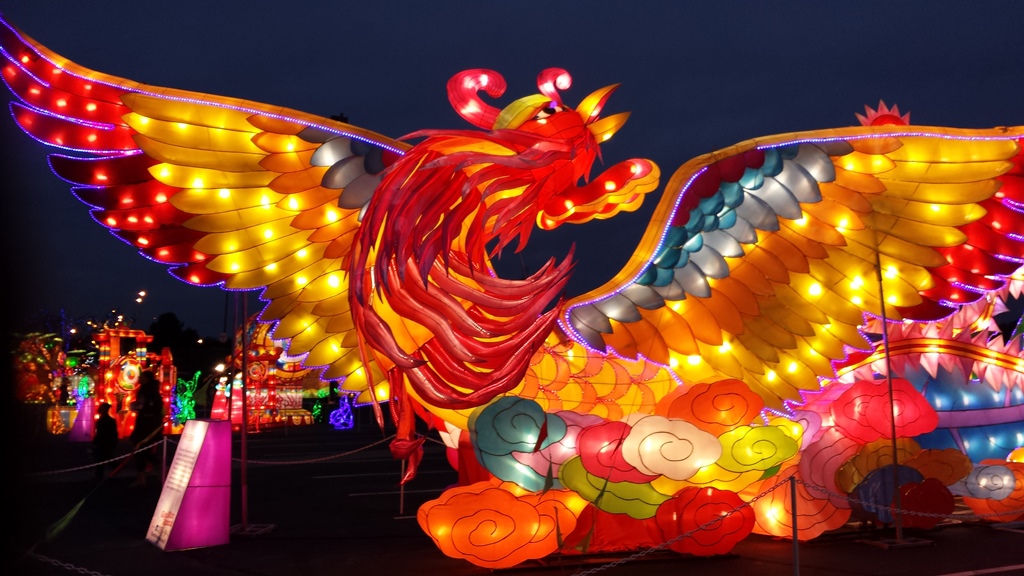 There is quite a special treat waiting for you down by Turner Field this weekend:
If this dazzlingly-lit replica of the White House piqued your interest (or perhaps the peacock below caught your eye), consider this post to be a Hansel & Gretel trail of bread crumbs, leading you to explore this event for yourself.
It's called Global Winter Wonderland, and it is full of charm.
Global Winter Wonderland is an exhibition from China that travels around the globe each holiday season, delighting audiences with elaborate pieces of artwork that bring the Wonders of the World right to you.
Keen to see the Taj Mahal? Want a photo opp beneath the Eiffel Tower? Fancy smooching the Sphinx? Global Winter Wonderland is just the place for you, and best of all, there are colourful, beautiful lights and lanterns.
Yes, these are hundreds of plates, saucers, teacups, and egg cups, all fashioned together into a magnificent, sprawling blue and white China dragon. The artistry alone is worth the ticket price.
My, my, look at that body.
You'll also find carnival rides, booths with food from around the world, and tchotchke vendors, as well as as a circus and Chinese acrobats. Never a dull moment at this event.
♫ So much to do, so much to see, so what's wrong with taking the backstreets....♫
The main way to start your visit off right is to arrive early. This event gets pretty packed, and since it closes this Sunday, January 5th, I imagine closing weekend will indeed be quite popular.
Arrive around 5:00 pm, so you can leisurely decide whether to hop on some carnival rides like the Ferris Wheel and Bumper Cars, pop into the the circus (this line can get particularly lengthy), or start browsing the light show.
You can't go wrong whichever route you take. I found this to be a festive way to spend an evening.
Best of all, the rides and all the entertainment is included in the price of the ticket. $38 pays for two adults, so it's definitely a sweet deal.
Special thanks to the good folks at Marketing Inspirations for inviting me!