STOMP at the Fabulous Fox Theatre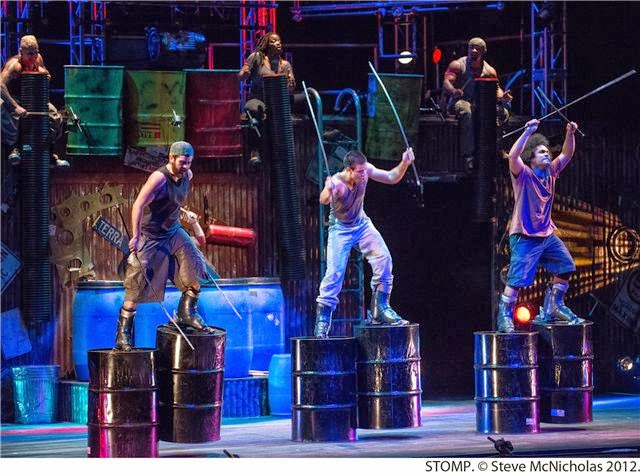 When was the last time you saw some really excellent performance art? If it's been a while, I highly recommend you get down to the Fox Theatre today and see the energetic, introspective, timeless, and often-imitated musical STOMP!
STOMP has been electrifying audiences across the world for nearly 20 years; there have been more than 5,000 performances in New York City alone! I hesitate to call it a musical, because it is so much more than that: It's a choreography of sounds, taking flight across the stage in a 90-minute ebb and flow of rhythms, lights, body movement and comedy. I was fortunate to see this show the other night, and let me tell you, I cannot recommend it enough.
Without characters, dialogue, lyrics, or traditional instruments, the creative people behind STOMP have managed to take the simplest concept (may have even been inspired by a 2-year-old banging a spoon on pots and pans) and elevate it beyond art. Beyond art.
If you've somehow never heard of STOMP, it is a show that takes everyday objects and uses them as musical instruments. Most of us can imagine the sounds that paint cans, brooms, and traffic signs might make if you bang on them, but what about if you slide them across the floor, or pluck them, or dribble water onto them?? And what might those objects sound like when played alongside other objects? I've got the answer to that question: The result is incredible, and better than you'd ever expect! We're all familiar with the rustling sound of a plastic grocery bag, but is it possible to turn that bag into a drum and coax out a boom which could easily fit in with the baseline of a rock song?? Find out at STOMP!
The talented cast is made up of roughly a dozen people who are triple-threats as musicians, actors, and dancers. (I could probably also add in there jugglers, aerial artists, and daredevils!) Clad in casual jeans, tank tops, shorts, even baseball caps, the performers look completely unassuming – until their tap shoes hit the stage. They work together without words to build a performance that features quiet moments juxtaposed with pulsating moments, taking the audience on a light and jaunty ride through musical styles, showmanship, and even gravity-defying sequences.
Expect the unexpected. Expect to be completely thrilled. Expect to participate in the show! Expect everything but the kitchen sink! Or, maybe the kitchen sink will be there, too.
If you need one more reason to go, check this out: Use the code "HUNGER" when you purchase your tickets, and STOMP and the Fox Theatre will donate $5 to the Atlanta Community Food Bank. Talk about a win-win!
I originally wrote this post for the Atlanta Visitor's Bureau website, Atlanta.net. Photos by Steve McNicholas