Dining at NEXT
A couple of nights ago, M and I popped into NEXT for a bite to eat. In case you aren't familiar, NEXT is one of the restaurants in the newly renovated Crowne Plaza Atlanta - Midtown hotel!
Located on the cusp of downtown and midtown, the hotel is within ten minutes of all the good stuff: The Fox Theatre, Centennial Park, World of Coca Cola, the Georgia Aquarium, Georgia Tech, and more.
Keen to explore the many dining options in that area, we bustled ourselves out of bitter cold weather into the cozy lounge at NEXT.
We dove right into the menu (the back of which is pictured above; no, I am not a chauffeur at the airport holding a sign up for Mr. Next, lol) and ordered everything that looked tasty.
Starting with sesame-spiced Ahi tuna.
Seared rare with cucumber slaw, balsamic reduction and wasabi aioli.
And jumbo sea scallops, pan-seared with balsamic reduction & peach salsa
Which I only got one picture of before we promptly inhaled. These were truly some of the buttery-est, tender-est, most delish scallops I've had in years.
For an entrée, M had bone-in pork chops
Served with Asian vegetables and potatoes
While I indulged in the five-cheese BBQ brisket pasta.
Cavatappi pasta, BBQ beef brisket, garden tomatoes, green onions, and a five-cheese cream sauce.
When the dining manager who took care of us came by to ask if we saved room for dessert, I wanted to say no way!
But looking at the dessert list, I had to say otherwise.
I ordered the Georgia Peach Crisp
Which comes in a small cast iron pan filled with bourbon & brown sugar-glazed peaches, pecans, granola crisp, and bourbon caramel sauce, served alongside French vanilla ice cream.
It was sensational.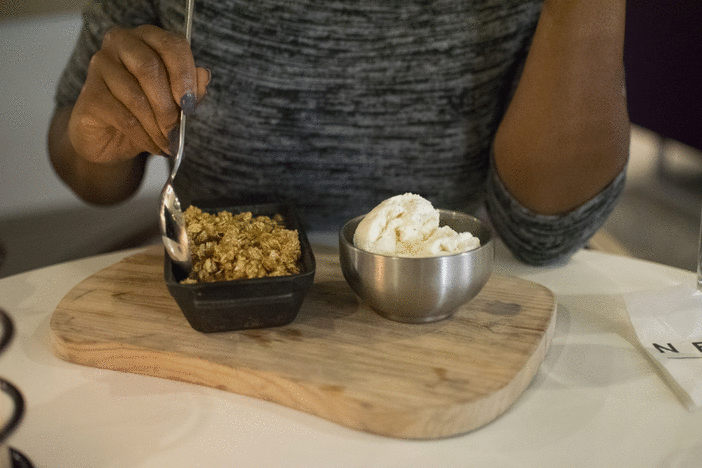 And he ordered the chocolate mousse cake, served with caramel sauce.
Which was the perfect cherry on top of the meal.
Before heading home to rub our overstuffed bellies, we chatted with the manager, who snuck us up to the 25th floor for a quick view of one of the perks of this location: beautiful views of the city.
Pictures don't do the view (or that perfect moon!) justice, and I'll have to come back to see the daytime view!
If you care to visit, you'll find the Crowne Plaza Atlanta - Midtown hotel at 590 West Peachtree St NW, Atlanta, GA 30308.